Black Brant II
The Estes Black Brant II(TM) kit was the second model rocket I completed. What was available at my local hobby shop was Estes and Quest kits (and not too different ones). I bought this kit and the Quest Intruder kits as my first foray back into model rocketry and being a B.A.R. Although building kits probably doesn't get me any coolness points as an adult model rocketeer, they were fun to build and good way to get back into the hobby.
The Black Brant II is a "scale" model of a Canadian sounding rocket. This is Estes kit #1958. Kit information and a full-size picture of the front of the package is here. This was a good kit and I enjoyed building it.
The detailing was about the right level for a sport-scale rocket. The decals were nice a clean and went on easily without showing the edges, making a nice looking rocket. You need something to give scale in the below right photo, don't you?
The Pictures
The Estes Kit
The Black Brant II had an impressive cover at least compared to the other Estes and Quest kits available at my local hobby store. Also, it was one of the few without pre-formed plastic fins which would take away all the fun. I also liked the fact that it was a scale model, although I doubt the kit is really accurate and I know not up to the standards of true scale modeling.
The only problem I had was that my nose cone came with the tip bent. It took some firm bending to get it back straight. Also, the mold lines on the plastic parts took some work to clean off. In the end, it came out looking very good (my version).
For those interested in the kit itself:
Kit specifications
Length: 24.875 in. (63.2 cm)
Dia: 1.325 in. (33.7 mm)
Weight: 22.29 oz. (65 g)
Recommended Engines: D12-5 (First Flight), D12-7
Package Cover Card
The kit came in a bag with this color cover card:

Historical Info.
Here is the (little) historical information which came with the kit including this photo: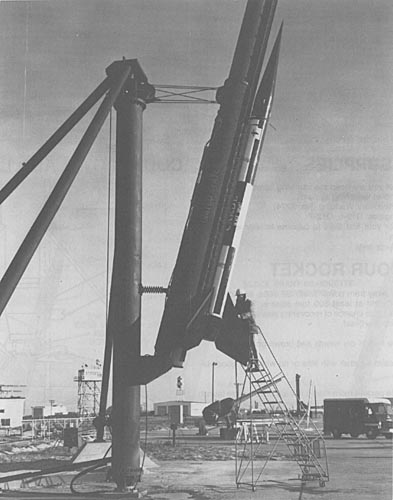 An outgrowth of the 1950's Black Brant I program, Black Brant II's payload capacity was increased to 6.2 cu. ft. by changing the nose cone's shape. The Canadair airframe (17.2" dia. x 27' 8" tall) was aerodynamically stabilized by 3 fixed fins. Total fin span was 39". The motor contained 2,000 lbs. of solid propellant and delivered 16,000 pounds of thrust over a 25 second burn time. Total vehicle weight with propellant was 2,642 lbs.
The first two Black Brant IIs were launched in October 1960 at Fort Churchill, Canada. The next two were launched from Wallops Island, VA during November, 1961.
Used by the Canadian Armament Research and Development Establishment for upper atmosphere research studies, Black grant IIs were fired mostly in Canada's Northlands, carrying up to 150 pounds of payload to altitudes of 100 statute miles.