ARLISS-K (Single Can)
Some members of AERO-PAC, organized by Tom Rouse, worked with Professor Bob Twiggs of Stanford to build rockets to launch student satellites from amateur rockets at the Black Rock Desert. For more information about the program, see the ARLISS web site.
I participated as a flier in the second (2000), third (2001) and fourth (2002) years. In 2002, the rocket was damaged on recovery of the second flight and was rebuilt for 2004.
We also decided to introduce a new size of ARLISS rocket in 2004. A 3" airframe rocket, flying on a K impluse motor (probably the K700), would allow more fliers to get involved with ARLISS. The smaller rockets would be cheaper and simpler to build and flying the rocket would not require a level 3 certification. The previous (6", M1419 powered) rockets would be called "ARLISS-M" and the smaller rockets would be called "ARLISS-K." This page describes the ARLISS-K rocket I built in 2004.
The Pictures
The Design
The new rockets would be built using the same design as the larger ones, but based on 3" I.D. airframe tubing. In order to achieve the same interchangeability between ARLISS-K rockets we have between ARLISS-M rockets, the requirements are:
forward section of airframe conforms to can sat carrier requirements
capable of flying a K700 (54mm MMT, 24" long)
separate recovery of the booster at apogee
separate recovery of the nose cone and forward plate at carrier ejection
uses a G-Wiz MC (plus optionally other backup electronics)
I drew a plan (PDF) showing the major components and dimensions for required parts. This should be used as the starting point for the design of any ARLISS-K rocket. William Walby also made a RockSim file for his ARLISS-K design.
Some things are not part of the requirements as people have suggested different configurations:
diameter of aft airframe
type and exact shape of fins
coupling of airframe sections and MMT relation
For reference, the sequence of events in an ARLISS flight are:
launch
at apogee, booster and sustainer separate
(booster recovers separately)
6s later, can sat carrier is ejected on tether
(nose cone and plate recover separately)
carrier reaches end of tether and can sat is ejected from carrier
(forward airframe and carrier recover together)
I decided to build my rocket using standard parts and make it as simple as possible. I followed the requirements diagram as the plan, defining the forward airframe length as 42" and the aft airframe length as 22". Using an 8" long electronics bay, this leaves 12" of recovery space for the booster and sustainer parachutes.
Keeping a rocket simple is always a challenge, but I resolved to:
phenolic tubing ("flexible phenolic" from Giant Leap)
not reinforce the tubing with fiberglass
use simple G-10 fins with standard TTW mounting
use a standard plastic nose cone (also from Giant Leap)
This rocket should be easy to duplicate and could even be made into a kit since it is a simple design with all standard parts.
New Carriers
New carriers were necessary for the ARLISS-K rockets. Since they were 3" rockets, the carriers were built in 3" couplers. I built six new carriers using a straight-forward reduction of the ARLISS-M (three can) carriers.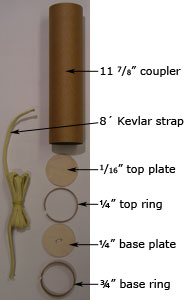 On the left you can see a diagram of the components of each carrier. Note that they are built just like the 6" carriers, except that instead of using a U-bolt at the bottom, the Kevlar®* strap goes through the bottom plate and is bonded to it and the top plate inside.
The overall length is 11 7/8" long, matching the 6" carriers. (Three carriers were cut out of each 36" coupler tube.)
The two rings are coupler tubing cut to ¼" and ¾" lengths with a section cut out to allow them to fit inside a coupler.
The two plates are 1/16" and ¼" plywood, cut to fit inside a coupler. Note that there is no hole in the top plate and the bottom plate has an elongated hole for the ½" Kevlar® strap to pass through.
I decided to build six carriers. That should be way more than enough for this year, but somehow we never have enough carriers to go around.
Above you can see the parts for the six carriers on the left and the finished carriers on the right.
See the ARLISS web site for more info.
---
* KEVLAR® is a trademark of E.I. du Pont de Nemours and Company.