Turkey Shoot 2000
AeroTech had just finalized the formulation of their new red propellant, called Redline in late 2000. (Note that we'd demonstrated a pre-final version at Balls.) We had planned to demo the final formulation at Turkey Shoot by fling it again in my Generic rocket. However, manufacturers' demos are no longer allowed at sanctioned launches, so we did a static burn.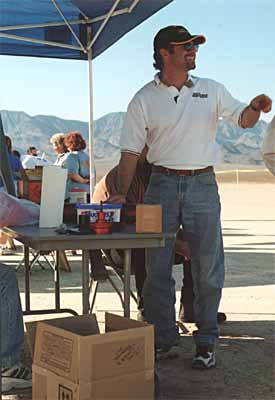 The static burn turned out to be fine and everyone got to see the motor right up close, without it flying away. This new propellant has an awesome red color and will make very cool motors once released (hopefully in time for the 2001 flying season).
To the right you can see Gary talking to someone with the Redline box opened and the parts laid out on the AeroTech booth table ready to be assembled. Gary is clearly happy and you can see what a beautiful day it was for a launch.
This motor works just like any other 98mm AeroTech motor and uses the same nozzle as the white lightning propellant. It even has similar burn characteristics to white lightning, although it's slightly less energetic.
Below you can see Sue McMurray and Gary digging the hole to plant the motor for the test. Sue started the hole and dug most of it and Gary finished it off.
And below is the Redline motor in full burn! It's hard to do justice to this motor in this picture, but you can tell that it is an awesome flame and a brilliant red color.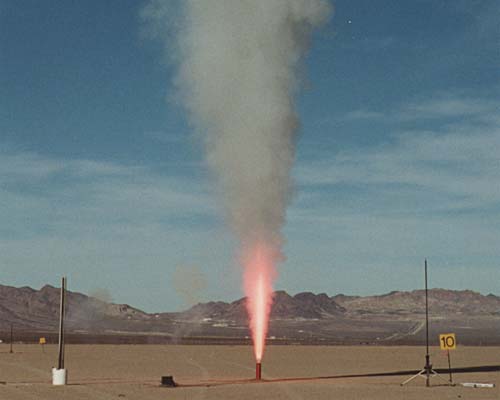 I also flew my Magnum on a flight as part of the NFPA sparky motor tests conducted by Tripoli. See my Magnum page for the story.