I.Q.S.Y. Tomahawk
I wanted to do another Rocketry Online How-to Classroom forum series and polled the readers for a topic. The winner was a class on building a high-power kit, emphasizing proper techniques.

Good first kits are available from many manufacturers, notably Public Missiles, Ltd. and Loc/Precision. As suggested by Darrell Mobley, the kit I decided to build was the Yank Enterprises 4" IQSY Tomahawk (with 54mm motor mount tube). These are high-quality kits with good materials and I'd never built one before. (Plus, I'm a sucker for scale rockets.) Note that Yank Enterprises was subsequently purchased by Loc/Precision.
The series was originally posted in the Rocketry Online forums and is still available here on my site.
The Pictures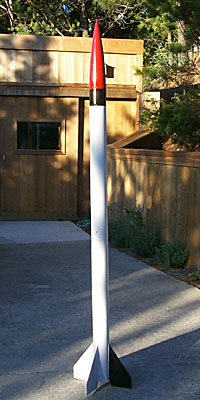 The Kit
Immediately upon opening the package I was impressed with the kit. The airframe tubes are flexible phenolic and all the parts are good quality. No paper or brittle phenolic tubes and no elastic!

You can see the parts from the kit spread out for inspection in the photo above. Despite being a very basic rocket, the kit is well designed and is a good candidate for improving on, as I demonstrate in the H.P.R. Kit Building article.