Athena I
I wanted to try building a rocket with no fins (making it stable with just nose weight). Originally, I was going to just build a small generic rocket, but after seeing some of the new rockets Peter Alway was documenting, I chose to model the Lockheed Athena I instead of doing a generic rocket. (Peter Alway is the author of the excellent Rockets of the World.)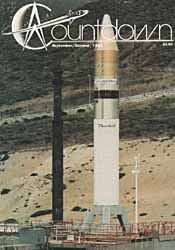 In the photo on the right you can see the prototype rocket. This picture was published on the front cover of the September/October 1994 Countdown magazine. Click on it for a larger version. Countdown magazine said:
Cover photo: "The 'Pathfinder' model of the first Lockheed Launch Vehicle stands on its launch adapter at Vandenberg AFB's Space Launch Complex-6 (SLC-6). Photo courtesy Lockheed."
This is a pretty cool-looking rocket in an ugly duckling way. It is purely functional with interesting detail on the body. I also like that launch pad. It's really just a launch stand.
Peter Alway was kind enough to send me a copy of the drawing he has worked up but not yet published, copies of drawings of the prototype rocket and the copy of Countdown magazine shown above!
The Pictures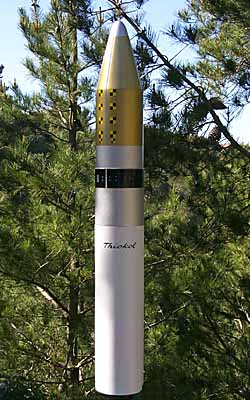 The Design
There's really not much to this rocket. Leaving off the fins really saves time in building! The major trick is making the rocket stable without the corrective action of fins. To do this, I simply used nose weight to move the CG forward of the CP. The rocket will also only fly in windless conditions.
I decided to keep this rocket small since the finless design makes it questionable. Using a 3.9" body tube for the booster section results in a 4.2% scale rocket.
The Athena has some changes in diameter along its length. I chose to change body tube diameters by using a 3.9" body tube for the aft section and continuing this with a coupler for the forward section. This overstates the difference in diameters, but provides a bit of visual interest to go along with the various colors.
I've made rocket decals on my Alps MD-1000 before, but I recently got an MD-5000 and the decals for the Athena really prove the value of this machine. See my article on Decals on Alps Printers for more information.