I.Q.S.Y. Tomahawk
The AeroTech I.Q.S.Y. Tomahawk kit was the third rocket I build and the first mid-power one.
The Tomahawk is a scale rocket, although it's clear the kit isn't meant for meticulous scalers. Finish is rough in some places and the assembly doesn't lend itself to fine-tuning. However, it's clear that this rocket is meant to take big motors and the design is simple and very solid. This is AeroTech kit #89014. Kit information and a full-size picture of the front of the package is here as well as a very nice drawing of the rocket by G. Harry Stine. This kit went together fast and the through-the-tube fin mounting made alignment a no-brainer.
The Pictures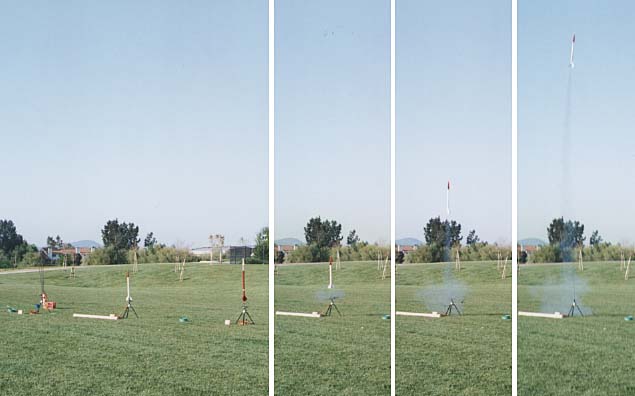 A beautiful flight: immediate ejection and a straight flight (aimed slightly into the wind). This was the Tomahawk's second flight on an F40. The parachute deployed perfectly and the rocket floated away on a gust of wind.
On the second flight, the Tomahawk floated all the way out of the launch area, out of the large field downwind and into a fenced-off field! You can see me about reading to climb a barbed wire fence to get it back. Can you spot the rocket?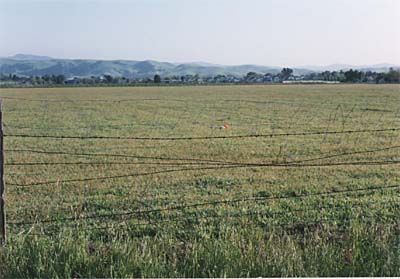 On the third flight, a G64, the Tomahawk also flew perfectly, but somehow the body tube seamed just above the fins and landed without the nosecone in sight. Sigh.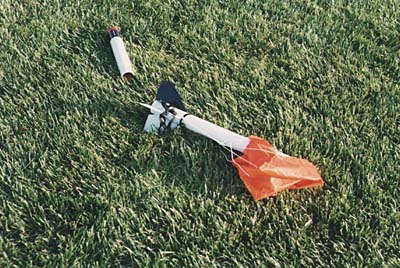 The AeroTech Kit
This kit was clearly designed to fly with big motors. The parts are very high quality and construction is a snap. Gotta love that CA and through-the-tube fin mounting. It even came out looking good (my version).
I was surprised at the decals. They're really more like clear stickers. I was afraid they would look ugly against the painted surface, but they came out surprisingly well and perhaps the thick decals help to set of the tail bolt plates (see below).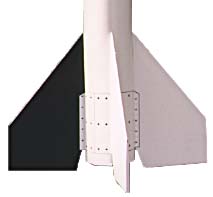 For those interested in the kit details:
Kit specifications
Scale Radio: 1:4.8
Length: 41"/104 cm
Diameter: 1.9"/4.7 cm
Weight (Without Motor): 13 oz./370 gms
Nose Cone: 5:1 Ogive
Fins: 4-Trapezoidal With Blunt Trailing Edge Airfoil
Stages: 1
Number of Motors: 1
Recovery System: Parachute
Package Cover Card
The kit came in a sturdy cardboard box with this cover:

Full-size Rocket Plans
A nice 11x17" blueprint drawn by G. Harry Stine came with the rocket: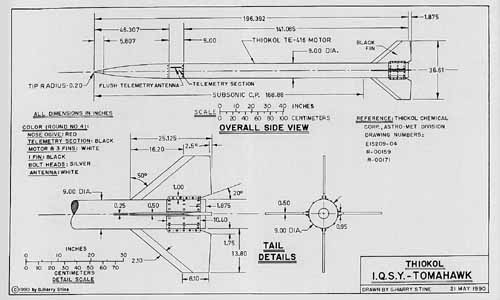 Note that I had to scan this in two pieces (my scanner is only 8½x11"), but I was able to join them pretty seamlessly. This image was scanned at 100 DPI as a "black and white photo" the contrast increased and "unsharp masked" in Photoshop. (Also, I have an 11x17" version.)