LOC-IV
When I decided to make my Certify Level 1 video, I needed a simple and typical 3FNC rocket kit to build. A natural choice was the venerable Loc/Precision LOC-IV with its familiar materials and 38mm motor mount.
Way back in 1998, I got my TRA level 1 certification with another Loc/Precision kit, the I-ROC.
The Pictures
First picture is taken right after I applied the decals from Loc to complete the rocket (on Thursday night after work).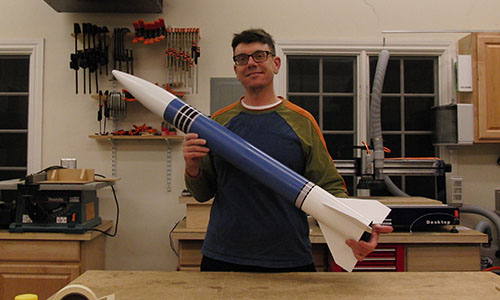 Just days after completing this rocket, I flew it at a LUNAR launch at Snow Ranch in Eastern California on March 8, 2014. Flying on grass? What a concept!
I was feeling lazy, so asked Mike of Bay Area Rocketry for a single-use 38mm H or I motor (level 1 territory) and ended up picking an AeroTech I140 (along with the universal delay adjusting tool). This new DMS system is excellent; easy to fly and almost no clean-up!
The rocket flew fast and straight on the I140. A quick simulation suggested 2150ft, but since I wasn't flying elecronics, I have no idea how high it actually did go. With the light but persistent wind, it landed far enough away that I suggest dual-deployment (with a low main altitude) for rockets flown at Snow Ranch.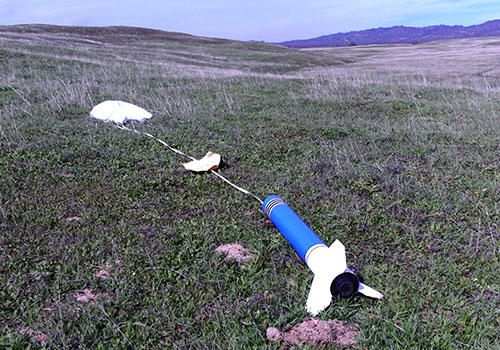 Despite drifting past two rows of hills and to what felt like a mile from the launch site, the rocket came down to a perfect landing (perilously near a cow pie, but not quite in it).
The Kit
I ordered the kit directly from Loc/Precision, but kits like this are also often available at larger launches and sometimes even at hobby shops. If you would like to follow along, I scanned in the kit instructions.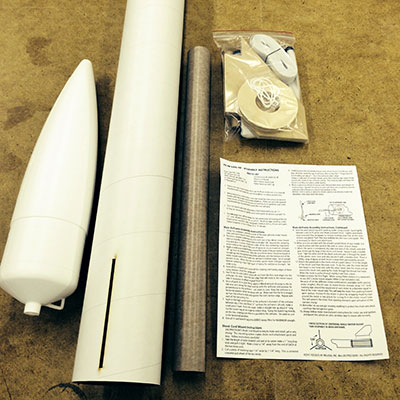 Of course, I replaced the elastic with a Nylon strap, added a motor retainer and used rail buttons instead of a launch lug. See the video for construction details.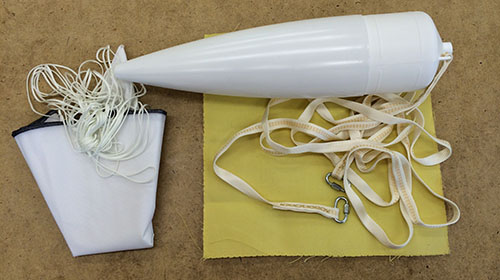 Above you can see the recovery system using Nylon strap with sewn loops and quick links. And below the aft end with the AeroPack motor retainer mounted and the aft C.R. painted black.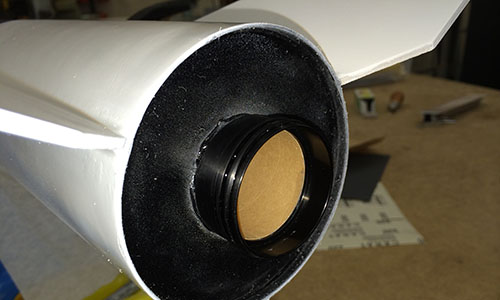 Otherwise, the kit was built pretty much stock as I was trying to keep things simple.