Galaxy
In February 2016, I happened to browse the Binder Design site and just had to get the 4" Galaxy. Yes, I'm a sucker for retro-futuristic rockets and the Galaxy is a great-looking example.
The Pictures
The Kit
The kit comes nicely packaged with separate compartments for the small parts and hardware.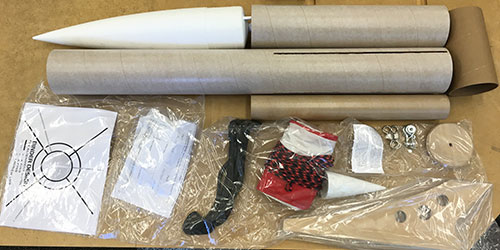 The are some nice extra details to this rocket, specificially the nose and tail.
The nose cone actually has a doubler for the tip, making a stepped nose. (I cut the end off the normal nose cone to make the sleeve fit better.) You can see the nose and the extra tip above on the left.
The kit also has a tail cone, flaring out like a nozzle rather than tapering down like a boat tail. It also comes with a snap-ring aluminum motor retainer inside the tail cone. You can see the parts that make it up above on the right.